(Pae White's Too Much Night 2008)
Installation art describes an artistic genre of three-dimensional works that are often site-specific and designed to transform the perception of a space. Generally, the term is applied to interior spaces, whereas exterior interventions are often called Land art, however, the boundaries between these terms overlap.
(William Anastasi Trespass 1981)
Installation art can be either temporary or permanent. Installation artworks have been constructed in exhibition spaces such as museums and galleries, as well as public and private spaces. The genre incorporates a broad range of everyday and natural materials, which are often chosen for their "evocative" qualities, as well as
new media
such as
video
,
sound
,
performance
,
immersive virtual reality
and the
internet
. Many installations are
site-specific
in that they are designed to exist only in the space for which they were created. A number of institutions focusing on Installation art were created from the 1980s onwards, suggesting the need for Installation to be seen as a separate discipline. These included the
Mattress Factory
, Pittsburgh, the Museum of Installation in London, and the
Fairy Doors of Ann Arbor, MI
, among others.
Installation art came to prominence in the 1970s but its roots can be identified in earlier artists such as
Marcel Duchamp
and his use of the
readymade
and
Kurt Schwitters'
Merz art objects, rather than more traditional
craft
based
sculpture
. The "intention" of the artist is paramount in much later installation art whose roots lie in the
conceptual art
of the 1960s. This again is a departure from traditional sculpture which places its focus on
form
. Early non-Western installation art includes events staged by the
Gutai group
in Japan starting in 1954, which influenced American installation pioneers like
Allan Kaprow
.
Wolf Vostell
shows his installation "6 TV De-coll/age" in 1963

at the at the Smolin Gallery in New York.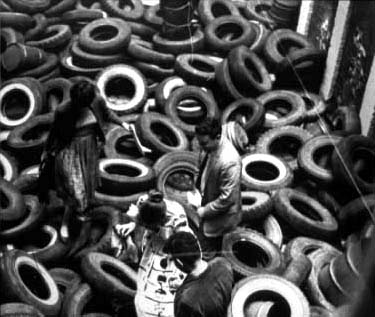 (

Allan Kaprow Yard

1961

)

Installation
as nomenclature for a specific form of art came into use fairly recently; its first use as documented by the OED was in 1969. It was coined in this context in reference to a form of art that had arguably existed since prehistory but was not regarded as a discrete category until the mid-twentieth century.
Allan Kaprow
used the term "Environment" in 1958 (Kaprow 6) to describe his transformed indoor spaces; this later joined such terms as "project art" and "temporary art."
Essentially, installation/environmental art takes into account a broader sensory experience, rather than floating framed points of focus on a "neutral" wall or displaying isolated objects (literally) on a pedestal. This may leave
space
and
time
as its only dimensional constants, implying dissolution of the line between "art" and "life"; Kaprow noted that "if we bypass 'art' and take nature itself as a model or point of departure, we may be able to devise a different kind of art... out of the sensory stuff of ordinary life"
Interactive installations
Interactive installation is a sub-category of installation art. An interactive installation frequently involves the audience acting on the work of art or the piece responding to users' activity. There are several kinds of interactive installations that artists produce, these include web-based installations (e.g., Telegarden), gallery-based installations, digital-based installations, electronic-based installations, mobile-based installations, etc. Interactive installations were most frequently created and exhibited in the 1990s, when artists were particularly interested in using the participation of the audiences to co-author the meaning of the installation.
Immersive virtual reality
With the improvement of technology over the years, artists are more able to explore outside of the boundaries that were never able to be explored by artists in the past. The media used are more experimental and bold; they are also usually cross media and may involve sensors, which plays on the reaction to the audiences' movement when looking at the installations. By using virtual reality as a medium, immersive virtual reality art is probably the most deeply interactive form of art. At the turn of a new century, there is a trend of interactive installations using digital, video, film, sound and sculpture.
Researching about installation art has gave me better scope of the different types their are and which ones are achievable and the new ones which are being tested and tried out. In the new ways in which we can use and create

with new technologies epsecially in the art world. Also about where it stated and and how Allan Kaprow expanded on the ideas and possibilities of installation art till how its come to today. How it changed the new way in which we look at art and what we can do with art and how we interact with art in a space. I'm pretty intetested and keen to be able to expand my knowledge and a final outcome of inst

allation art for my final piece.