Peter Cusack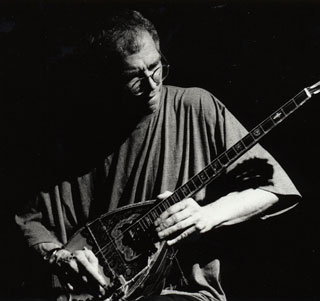 http://www.petercusack.org/
http://www.last.fm/music/Peter+Cusack/The+Horse+Was+Alive,+The+Cow+Was+Dead
Peter Cusack, based in London, works as a sound artist, musician and environmental recordist with a special interest in environmental sound and acoustic ecology. Projects move from community arts to research into the contribution of sound to our senses of place to recordings that document areas of special sonic interest, e.g. Lake Baikal, Siberia, and Xinjang, China's most western province. Involved in 'Sound & the City' the British Council sound art project in Beijing 2005. His current project 'Sounds From Dangerous Places' examines the soundscapes of sites of major environmental damage, e.g. the Chernobyl exclusion zone, the Azerbaijan oil fields, controversial dams on the Tigris and Euphratees river systems in south east Turkey.
He initiated the
'Your Favourite London Sound' project that aims to discover what Londoners find positive in their city's soundscape, an idea that has been repeated in other world cities including Beijing, Chicago, Prague and Birmingham. Is developing http://favouritesounds.org for listening to recordings linked to the Google map.
He produced
'Vermilion Sounds' a monthly environmental sound program on ResonanceFM radio, London, and is a Senior Lecturer in 'Sound Arts & Design' at the London College of Communication. Was a senior research fellow on the multi-university multidisciplinary 'Positive Soundscapes Project' funded by the Engineering & Physical Sciences Research Council that finished in September 2009.
Where Is the Green Parrot? (1999) with tracks like "Toy Shop (Two Small Boys Go Shopping)" and "Siren", which are just as advertised.

Day for Night (2000), with Max Eastley. This features "duets" between Eastley's kinetic sculpture and Cusack's field recordings.

Baikal Ice (2003), featuring tracks like "Banging Holes In Ice" and "Floating Icicles Rocked By Waves" and "Falling In".
Cusack has been involved in a wide range of projects throughout his career. Several of his pieces have been reviewed in Leonardo Music Journal, the annual music Journal published by MIT Press. He has also curated an album for Leonardo Music Journal.
Cusack is particularly interested in environmental sound and acoustic ecology. He has examined the sound properties of areas such as Lake Baikal, Siberia, and the Azerbaijan oil fields, and is interested in how sounds change as people migrate and as technology changes.
In 1998, Cusack started the "Your Favorite London Sound" project. The goal is to find out what London noises are found appealing by people who live in London. This was so popular that it has been repeated in Chicago, Beijing, and other cities. He is involved in the "Sound & The City" art project using sounds from Beijing in October, 2005.
Cusack's Sounds From Dangerous Places is a project to collect sounds from sites which have sustained major environmental damage. Sites that Cusack is working on include Chernobyl, the Azerbaijan oil fields, and areas around controversial dams on the Tigris and Euphrates river systems in south east Turkey.
Cusack's performances are a central part of the book Haunted Weather: Music, Silence, and Memory (Toop, 2004) by his old collaborator and respected music critic and author, David Toop. Toop investigates the use of environmental sound and electronic instruments in experimental music in his book.
...perhaps his most lyrical work: a documentary recording of nature and life by the lake at the end of winter, when the ice begins to melt. (Piero Scaruffi, 2003)
You can hear the vast spaces, the majesty of the frozen lake, and the 'pittoresque' of the location through the wind, bird, and human sounds, but also through the acoustical features of the recordings. We can hear unusual bird songs, children playing with an outdoor PA system, Cusack in his daily routine (mediated by his very dry sense of humor). The recordings are crystal clear and ... create their own stories and convey a sense of here and now...these recordings disclose a unique soundworld. This reviewer would not be surprised if a compilation album of remixes/reworkings based on these recordings surfaced soon.
After researching Peter Cusack and learning about him in class at University its clear hes made a great impact as an sound artists in the UK. How he has done work with his projects by recording naturual sounds and narrative to whats happening when he records them. To his in depth project about finding peoples favourite sounds in London and going out to pain stakingly record them to be used in a sound library.
I feel he uses the themes of chance and the observer very well and his piece 'The horse was dead the cow was alive' was a very strong narrative piece of work. It also gave me inspiration of how I wanted to record more natural sounds found outside but with some kind of narrative. I will expand on how this relates to my idea for my final piece in my next blog post with the narrative about memories.